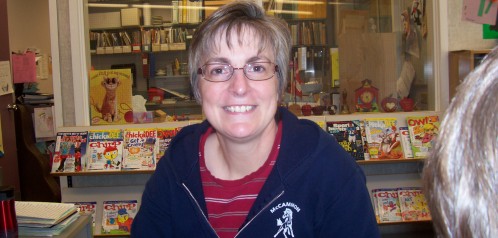 Check It Out!
Our circulation system enables us to search the Library collection from home. We will be reviewing navigation of the Library system with our students this fall and, once we are settled in, I will be happy to show parents how to access it from home as well.
Schedule:
The Library is open for part of every day at McCammon.  K-2 classes have a scheduled Library block once a week, but are welcome to use the Open Book Exchanges as well at the discretion of their teachers. 
Open Book Exchange is daily from 8:15 - 8:30 (after teachers have taken attendance) and 12:35 - 1:00 every afternoon.  Students can access the Library at this time with a Library pass supplied by their classroom teacher.  
As well, Mrs. Kushniryk is in the Library every day after school for quick exchanges if bussing is not an issue.
Preschool Story Times:
Drop-in Story Times are designed for 3 to 5 year olds.  Younger children are welcome if you check with  Mrs. Kushniryk ahead of time.

Our Fall schedule will begin Friday, Oct. 4 at 10:45 am.
Hot Stuff! 
So many books!  We try bring in new titles regularly and try to keep up with all the popular series.  If your child has been hooked by a particular book, encourage them to let Mrs. Kushniryk know so she can look for copies, sequels and similar titles.  Some of our most popular books are part of the "Branches" set of series.  These are great novels for kids ready to transition to chapter books.  Dragon Masters, Owl Diaries, Eerie Elementary are three examples of the different series.  
Come see our LEGO wall!  With the support of our PAC, we have been able to put up a LEGO wall in the library for display purposes.  We are in the process of building up LEGO kits that classes can use for projects to display on the board.  If you have spare LEGO sitting around at home, please consider donating it to our LEGO collection.  It all adds up to a fun way to display our learning!
Home Reading:
We have had our first group of students reach 25 nights this week, including 5 Kindergarten students!!  What a great start!  Every day can be a Super Reader day from now until May 31, 2021.  Extra record sheets are available from your student's teacher as well as the notice board by the office.
                                         The single greatest indicator of school success is regular reading practice at home. 
Whether students are reading to themselves or someone else, or being read to – it all makes a positive difference! 
Reading Link Challenge
We are again partnering with FVRL to present the Reading Link Challenge for grade 4 & 5 students.  We will know which 6 titles are on the list in early November.
 Parent Library Shelf: 
Parents can become patrons of our Library and sign out books as well.  Our parent Library shelf includes books on a variety of subjects including homework help, discipline, health education, substance abuse prevention and getting your kids to do more chores with less arguments.  Come in and check it out!