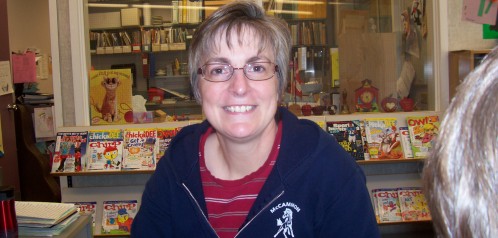 Winter time is reading time, McCammon!
Don't forget to count your reading days/nights over the holidays!
Let's keep up those home reading habits!
If you're not sure how super reader works, check out the PDF note at the bottom of this page.
Extra record sheets are available from the classroom teachers or in the Library. 
As well, a PDF copy of the note and a record sheet is available at the bottom of this page.
Check It Out!
Students without any overdues may sign out books for the holidays. 
The Library Grinch reminds everyone that ALL books will be due Tuesday, January 3, when we return to school in the new year. 
Preschool Story Times:
We have set the dates for our preschool story times.  They are Fridays 10:10 - 10:40. Our winter 2023 schedule is attached at the bottom of the page.  Preschoolers and their caregivers are welcome to join us for stories and activities in the library.  Children do not need to be registered in Strong Start to attend, but do need to be registered if they are wishing to sign out library books.  A poster is attached at the bottom of this page with all the dates and times.  It is also posted outside the Library and Strong Start rooms.
Hot Stuff! 
We are pleased that our new display racks have arrived for our Dual-Language books.  Mrs. Tompke has purchased a number of books in English + a variety of other languages spoken at home by some of our students.  Stop by for a look and check this new special collection out!
Home Reading:
The single greatest indicator of school success is regular reading practice at home. Whether students are reading to themselves or someone else, or being read to – it all makes a positive difference! 
Super Reader
A new year of Super Reader has begun.  If you haven't seen it yet, ask your student about the hot pink Super Reader note that was handed out Wednesday, Sept. 7.  It explains the program and has four 25 night record sheets on the back.
Parent Library Shelf: 
Parents can become patrons of our Library and sign out books as well.  Our parent Library shelf includes books on a variety of subjects including homework help, discipline, health education, substance abuse prevention and getting your kids to do more chores with less arguments. Come check it out!