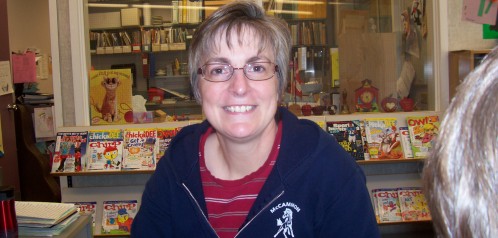 Adopt a Book Fundraiser
Thank you so much for your support adopting favourite books so we can have more in circulation in these quarantine times! 
More than $600 was raised!  Most of the "adopted" books have arrived and are in circulation or almost ready to be circulated.
The students are SO EXCITED! 
Check It Out!
Due to COVID-19 and our district health and safety guidelines,  classes will be visiting the Library with their teacher on a weekly schedule. 
Hand washing will take place before and after each visit.
There will be no flexible, open book exchange at this time.
Our circulation system enables us to search the Library collection from home. We will be reviewing navigation of the Library system with our students this fall.
Schedule:
Preschool Story Times:
At this time, preschool stories are on hold due to health and safety guidelines.
Hot Stuff! 
So many books!  We try bring in new titles regularly and try to keep up with all the popular series.  If your child has been hooked by a particular book, encourage them to let Mrs. Kushniryk know so she can look for copies, sequels and similar titles.  The "Jack" series by Mac Barnett is very popular with Elephant and Piggie fans and we're having fun drawing the characters following the step-by-step directions at the end of the stories.  The Minecraft Woodsword Chronicles are also a big hit.
Home Reading:
                                         The single greatest indicator of school success is regular reading practice at home. 
Whether students are reading to themselves or someone else, or being read to – it all makes a positive difference! 
Our first 100 night reading recognition is coming up at the end of January. 
Please get all records up to date with your child's teacher by January 19 so we can organize all the rewards and certificates.  Students reaching 100 nights after the 19th will be recognized at a later date.  This year we will make the presentations when each class comes in for their weekly library time.  We will take pictures and share them at the next ZOOM assembly.
READING LINK CHALLENGE: 
We have the books and some avid grade 4 and 5 readers are working their way through them. 
This year's challenge will be online in the spring. Details are still in the works. 
 Parent Library Shelf: 
Parents can become patrons of our Library and sign out books as well.  Our parent Library shelf includes books on a variety of subjects including homework help, discipline, health education, substance abuse prevention and getting your kids to do more chores with less arguments.  Because you can't come in to the Library at this time, feel free to email mary_kushniryk@sd33.bc.ca with your requests and I will try to get you the books as soon as I can.