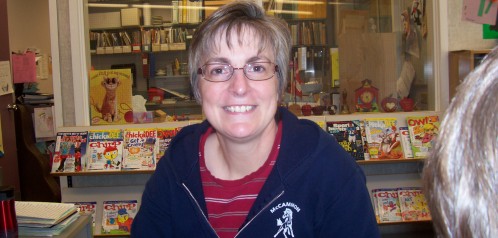 Here Comes Summer McCammon Readers!!
The end of the year is fast approaching! Please help your child to return all of their library books!
We closed off our Kiwanis Super Reader program with 136 students reading for at least 100 nights this year and 77 reading for 250 nights! 
Well done McCammon!  A huge thank you to Ms. Brenda for looking after all of the prizes and writing 1000 4-B's for home reading!!!
FVRL Summer Reading Club is available online -- be sure to take advantage of this free program, keep reading and win some prizes!
https://www.fvrl.bc.ca/summer_reading_clubs.php
Check It Out!
Due to COVID-19 and our district health and safety guidelines,  hand washing will take place before and after each library visit.  Each class will have a scheduled weekly visit and there will be some flexible Open Book Exchange sessions each week as well.
Our circulation system enables us to search the Library collection from home. We will be reviewing navigation of the Library system with our students this fall.
Preschool Story Times:
We will start up pre school story times in the fall when our schedules are settled in.  Keep your eyes out for a schedule to be posted in mid to late September.  It will be in school newsletters, here on this page and in the Strong Start room as well.
Hot Stuff! 
A great big thank you to our McCammon community for their support with our Spring Book Fair!
We were able to give each class a special new book for their classroom collection and drew 24 names to give away "I wish I could win books!" 
Thank you again to Michelle L. for all her hard work with these events!
Home Reading:
The single greatest indicator of school success is regular reading practice at home. Whether students are reading to themselves or someone else, or being read to – it all makes a positive difference! 
Super Reader
A new year of Super Reader will begin in September.  For now check out the FVRL Summer Reading Club.  The link is at the top of this page.
Parent Library Shelf: 
Parents can become patrons of our Library and sign out books as well.  Our parent Library shelf includes books on a variety of subjects including homework help, discipline, health education, substance abuse prevention and getting your kids to do more chores with less arguments.  Because you can't come in to the Library at this time, feel free to email mary_kushniryk@sd33.bc.ca with your requests and I will try to get you the books as soon as I can.