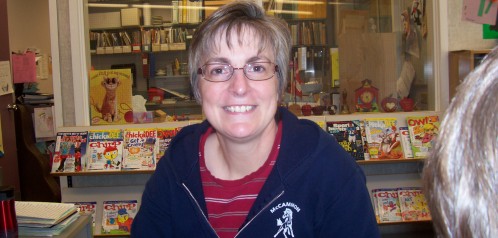 Stop the Summer Slide & JOIN the FVRL SUMMER READING CLUB!
Inventory Time
We are gradually closing down our Library-Resource Center to take Inventory and prepare for next Fall.  Overdue notices are being printed regularly and notes may be coming home about missing books.  Please help your child look for and return their library books.  All Library books are due Friday, June 18.  Thank you for your assistance in getting all those books back.
Check It Out!
Due to COVID-19 and our district health and safety guidelines,  classes will be visiting the Library with their teacher on a weekly schedule. 
Hand washing will take place before and after each visit.
There will be no flexible, open book exchange at this time.
Our circulation system enables us to search the Library collection from home. We will be reviewing navigation of the Library system with our students this fall.
Schedule:
Preschool Story Times:
At this time, preschool stories are on hold due to health and safety guidelines.
Hot Stuff! 
We have been featuring Canadian authors and illustrators as a tribute to National Read Canadian Day (Feb. 17).  Putting up a display really shows how many talented Canadians there are.  Current favourites:  Elise Gravel, Ashley Spires, Robert Munsch, Melanie Watt, Gordon Korman, Eric Wilson.
Home Reading:
                                         The single greatest indicator of school success is regular reading practice at home. 
Whether students are reading to themselves or someone else, or being read to – it all makes a positive difference! 
We had a super Super Reader year.  140 students reached 100 nights of home reading and 58 students received 250!  
Another BIG thank you to Ms. Brenda for all her volunteer hours writing 1033 4-B's and sorting all of those rewards!!
 Parent Library Shelf: 
Parents can become patrons of our Library and sign out books as well.  Our parent Library shelf includes books on a variety of subjects including homework help, discipline, health education, substance abuse prevention and getting your kids to do more chores with less arguments.  Because you can't come in to the Library at this time, feel free to email mary_kushniryk@sd33.bc.ca with your requests and I will try to get you the books as soon as I can.