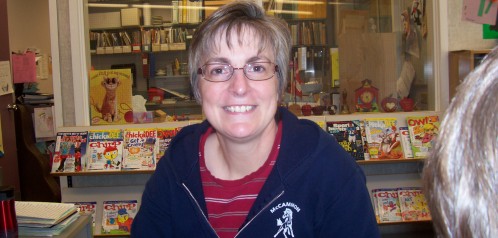 Summer Reading Club is On-Line!
Check it out and register at this link:   https://bcsrc.ca/
Dr. Seuss                                                     Story character information, book & video trailers, games.  
I will admit I am not very good at getting the gifts into the Grinch's bag, but if I keep trying I think I can get better!
Stories with Harper Collins:
Authors reading their books, sing-a-longs, book trailers for popular novels and picture books.
https://www.youtube.com/user/HarperKids
Happy Canadian Children's Book Week!
Click here to see author Ruth Ohi talk about and read her book Chicken, Pig, Cow.
https://www.youtube.com/watch?v=DfIMe-iKldE
Click here to see artist Barbara Reid demonstrate making a sunset.
https://www.youtube.com/watch?v=DPYBX-VQ2Us
Click here to see author Joel Sutherland talk about his Haunted Canada series and read one of his creepy stories. (Not recommended for our younger students)
https://www.youtube.com/watch?v=iSmmODKYom4
Normally, Tumblemath requires a subscription, but they have opened up the site at no charge until the end of June.  We might as well take advantage!
Direct Link:  https://www.tumblemath.com/autologin.aspx?U=tumble2020&P=A3b5c6
Username: tumble2020
Password: A3b5c6
Scholastic has opened up their digital platforms at no charge until June 30.
Bookflix -- K-3 -- a story is paired up with a complementary non-fiction title.  Listen to or read along.
Trueflix -- gr. 3-5 -- Science and Social Studies topics include a short video paired with a book you can read (requires Flash) or listen to.
Scienceflix -- gr. 4 & up -- activities, hands-on projects, videos on over 75 science topics.
http://scholastic.ca/education/free_digital_resources/
Digital/Media Literacy
Given the amount of time we are online these days, it's a great time to review the basics of media literacy.  This site has a selection of games to review and practice privacy, identifying real vs. fake information, and learning about gimmicks used to promote products.  These games are probably more effective if played along with an adult.  They are all manual transitions so you can play at your own pace and pause to talk things over.  Privacy Pirates & Coco Adversmarts are appropriate for ages 6 - 9, Privacy Player & Cybersense & Nonsense for ages 8 - 10 and Data Defenders for intermediate to middle schoolers.  The games require Flash.  There are also other resources on the site for parents.
https://mediasmarts.ca/digital-media-literacy/educational-games
As well, at the bottom of this page I have included a pdf set of posters from Google called "Be Internet Awesome" -- great information in point form.  The Web-Aware checklist is something parents of grade 3-5 students may want to go over with their child as well.
The following 2-minute video is a catchy little song that reinforces good online practices for K-6:
 https://www.commonsense.org/education/articles/new-digital-citizenship-song-and-video
This 2:39 minute video goes over the basics for intermediate & middle schoolers who are active on social media and posting online.
https://edu.gcfglobal.org/en/communicationskills/being-a-good-digital-
SUPER READERS -- KEEP READING! --
Join Summer Reading Club at the Public Library
Super Reader rewards are coming home in your report card envelope.  Thank you to all those students and parents who reported on their reading through email and TEAMS.  Please consider joining the summer reading club at the public library -- it's available online and they have prizes too.  There are teen and adult clubs too.
https://www.tumblebooklibrary.com/Home.aspx?categoryID=77
Another option for literature online is Audible Books.  These are strictly audio books, so you don't need to be looking at a screen to enjoy the story or novel.  There are lots to choose from, it's free and most people have found it works well.  A couple of listeners have reported that when they pause a story, it goes back to the beginning when press play again.  It seems to happen if people are using Safari.  Google Chrome doesn't seem to have this issue
https://stories.audible.com/start-listen
Want an online story time?  Storyline Online is a great link to lots of famous people reading great stories aloud.  I might even be a little bit envious of the different voices some of them can use for the different characters!  
https://www.storylineonline.net/
Multilingual stories -- choose the language you would like to hear the story in.
(Approved by Mrs. Tompke:)
https://www.uniteforliteracy.com/
Check It Out!
If you still have library books at home, you may drop them off when you pick up your report card or...
in front of the school 8 - 2 Monday - Friday.
THANK YOU!
Our circulation system enables us to search the Library collection from home. We will be reviewing navigation of the Library system with our students this fall and, once we are settled in, I will be happy to show parents how to access it from home as well.
Schedule:
The Library is open for part of every day at McCammon.  K-2 classes have a scheduled Library block once a week, but are welcome to use the Open Book Exchanges as well at the discretion of their teachers. 
Open Book Exchange is daily from 8:15 - 8:30 (after teachers have taken attendance) and 12:35 - 1:00 every afternoon.  Students can access the Library at this time with a Library pass supplied by their classroom teacher.  
As well, Mrs. Kushniryk is in the Library every day after school for quick exchanges if bussing is not an issue.
Preschool Story Times:
Drop-in Story Times are designed for 3 to 5 year olds.  Younger children are welcome if you check with  Mrs. Kushniryk ahead of time.
Hot Stuff! 
So many books!  We try bring in new titles regularly and try to keep up with all the popular series.  If your child has been hooked by a particular book, encourage them to let Mrs. Kushniryk know so she can look for copies, sequels and similar titles.  Some of our most popular books are part of the "Branches" set of series.  These are great novels for kids ready to transition to chapter books.  Dragon Masters, Owl Diaries, Eerie Elementary are three examples of the different series.  
Come see our LEGO wall!  With the support of our PAC, we have been able to put up a LEGO wall in the library for display purposes.  We are in the process of building up LEGO kits that classes can use for projects to display on the board.  If you have spare LEGO sitting around at home, please consider donating it to our LEGO collection.  It all adds up to a fun way to display our learning!
Home Reading:
                                         The single greatest indicator of school success is regular reading practice at home. 
Whether students are reading to themselves or someone else, or being read to – it all makes a positive difference! 
Reading Link Challenge
Unfortunately, Reading Link Challenge had to be canceled this year.  This is so disappointing for our wonderful readers who had really worked hard to read the books.  Hopefully, we will be able to join again next year.
 Parent Library Shelf: 
Parents can become patrons of our Library and sign out books as well.  Our parent Library shelf includes books on a variety of subjects including homework help, discipline, health education, substance abuse prevention and getting your kids to do more chores with less arguments.  Come in and check it out!