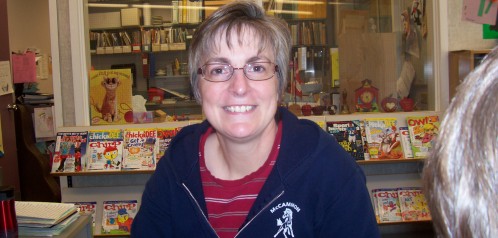 BOOK FAIR!
We ARE hosting a Scholastic Book Fair Oct. 27 - 30.  There will be an in-school fair display in the Library AND a virtual fair for shopping from home.  Each class will be given a tour on the first two days of the fair to browse, enter the Door Prize Draw and fill out their "Wish I Could Win" ballots.  As well, they can make purchases and/or note titles they wish to talk to their families at home about.  Families can then check out these titles through our virtual fair which is a McCammon-specific link.  Purchases can be made online for home delivery or money can be sent to school for an in-school purchase.  As always, if we sell out of a popular title, a prepaid order can be made in the Library before noon Friday for delivery with the truck driver on Monday.
The reason ALL classes will tour through by end of day Wednesday is because Wednesday night from 6 - 8 pm is our special FAMILY EVENT when all on-line purchases will have FREE delivery to your home -- no minimum purchase required for these two special hours!  During the rest of the virtual fair, purchases over $35 will have free delivery.  
Watch for more Book Fair news in our weekly Mustang News and in a note coming home the week of Oct.19. 
Check It Out!
Due to COVID-19 and our district health and safety guidelines,  classes will be visiting the Library with their teacher on a weekly schedule. 
Hand washing will take place before and after each visit.
There will be no flexible, open book exchange at this time.
Our circulation system enables us to search the Library collection from home. We will be reviewing navigation of the Library system with our students this fall.
Schedule:
Preschool Story Times:
At this time, preschool stories are on hold due to health and safety guidelines.
Hot Stuff! 
So many books!  We try bring in new titles regularly and try to keep up with all the popular series.  If your child has been hooked by a particular book, encourage them to let Mrs. Kushniryk know so she can look for copies, sequels and similar titles.  Some of our most popular books are part of the "Branches" set of series.  These are great novels for kids ready to transition to chapter books.  Dragon Masters, Owl Diaries, Eerie Elementary are three examples of the different series.  
Home Reading:
                                         The single greatest indicator of school success is regular reading practice at home. 
Whether students are reading to themselves or someone else, or being read to – it all makes a positive difference! 
Home Reading notes explaining the program are being handed out by the classroom teachers and include a record sheet for the first 100 nights on the back.  Kindergarten and grade 1 are also getting a magnetic pad of 10 Super Reader slips which you can conveniently attach to your fridge or memo board.  Record slips get handed in to the classroom teacher who will record them on the class chart.  A Super Reader helper will check the chart regularly to  organize the little prizes as often as possible.
 Parent Library Shelf: 
Parents can become patrons of our Library and sign out books as well.  Our parent Library shelf includes books on a variety of subjects including homework help, discipline, health education, substance abuse prevention and getting your kids to do more chores with less arguments.  Because you can't come in to the Library at this time, feel free to email mary_kushniryk@sd33.bc.ca with your requests and I will try to get you the books as soon as I can.