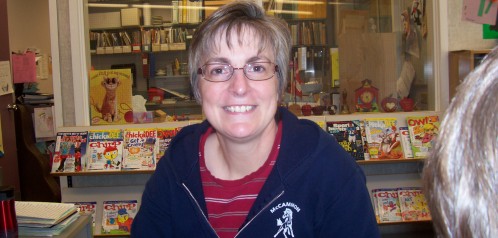 Welcome Back McCammon Readers!!
We are so excited to be back this Fall.  Read on to find out about our Library routines, Super Reader Home Reading and our Fall Book Fair.
Check It Out!
Due to COVID-19 and our district health and safety guidelines,  hand washing will take place before and after each library visit.  Each class will have a scheduled weekly visit and there will be some flexible Open Book Exchange sessions each week as well.
Our circulation system enables us to search the Library collection from home. We will be reviewing navigation of the Library system with our students this fall.
Preschool Story Times:
Story Time is Back!  We will begin on Friday, Oct. 1.  Story Time is 10:10 - 10:40.  The full schedule is available at the bottom of this page. Children must be registered with Strong Start to sign out books.  Adults must sign in at the front door and wear a mask.  See you soon!
Hot Stuff! 
Lots of new titles in our favourite series' have come out through the summer.  Everyone will be excited to see the new graphic novels,
You Choose adventures and many more.  
Home Reading:
                                         The single greatest indicator of school success is regular reading practice at home. 
Whether students are reading to themselves or someone else, or being read to – it all makes a positive difference! 
Super Reader starts Sept. 7, 2021 and runs until May 31, 2022.  A note will go home with your students the first week and you can back-date reading nights to the 7th.  There are rewards for every 25 nights of reading at home and weekends count!  Copies of the letter and record sheet are at the bottom of this page if you wish to print them at home, but the first  record charts are on the back of the letter that will be sent home to make it as easy as possible.
Book Fair:
Our Scholastic Book Fair is scheduled for next week:  October 26-29. 
There is an in-person display for students to shop and a virtual Book Fair for families to shop from home. 
A paper note and flier went home and Mr. Driscoll will be emailing the link for the Virtual Fair to families Oct. 21 and again Oct. 25.   
Happy shopping!!
 Parent Library Shelf: 
Parents can become patrons of our Library and sign out books as well.  Our parent Library shelf includes books on a variety of subjects including homework help, discipline, health education, substance abuse prevention and getting your kids to do more chores with less arguments.  Because you can't come in to the Library at this time, feel free to email mary_kushniryk@sd33.bc.ca with your requests and I will try to get you the books as soon as I can.