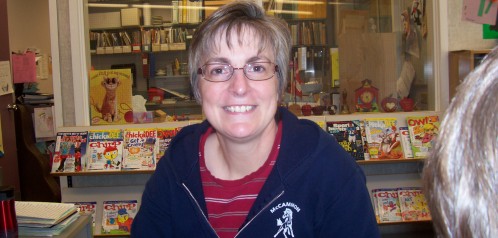 We Are Adopted!!  -- By Coles Books!
Please tell your family and friends about our campaign to raise funds for new books!  Visit our school page at:
Consider submitting a short story to earn $10 for our campaign from Indigo. (It's easier than it sounds!)
Check It Out!
Our circulation system enables us to search the Library collection from home. We will be reviewing navigation of the Library system with our students this fall and, once we are settled in, I will be happy to show parents how to access it from home as well.
Schedule:
The Library is open for part of every day at McCammon.  K-2 classes have a scheduled Library block once a week, but are welcome to use the Open Book Exchanges as well at the discretion of their teachers. 
Open Book Exchange is Monday, Wednesday & Friday from 8:15 - 8:30 (after teachers have taken attendance) and 12:25 - 12:55 every afternoon.  Students can access the Library at this time with a Library pass supplied by their classroom teacher.  
As well, Mrs. Kushniryk is in the Library every day after school for quick exchanges if bussing is not an issue.
Preschool Story Times:
Drop-in Story Times are designed for 3 to 5 year olds.  Younger children are welcome if you check with  Mrs. Kushniryk ahead of time.

Our Fall schedule will begin soon.  We had 20 sessions with a total of 216 "visits" by our preschoolers and their caregivers last year and we are looking forward to meeting new friends and seeing our old friends again!  A new schedule will be established in late September and posted here, in the school newsletters and outside Strong Start.  See you in the fall!
Hot Stuff! 
So many books!  We try bring in new titles regularly and try to keep up with all the popular series.  If your child has been hooked by a particular book, encourage them to let Mrs. Kushniryk know so she can look for copies, sequels and similar titles.  Some of our most popular books are part of the "Branches" set of series.  These are great novels for kids ready to transition to chapter books.  Dragon Masters, Owl Diaries, Eerie Elementary are three examples of the different series.
Home Reading:
Super Reader has begun.  Soon we will have our class charts up and our first 25 nights recorded.  Remember -- it's never too late to start building the home reading habit.  Please see your child's teacher or Mrs. Kushniryk in the Library if you have any questions.
The single greatest indicator of school success is regular reading practice at home. 
Whether students are reading to themselves or someone else, or being read to – it all makes a positive difference! 
Reading Link Challenge
We are again partnering with FVRL to present the Reading Link Challenge for grade 4 & 5 students.  2018 - 2019 titles will be announced and arrive in our Library in early November.
 Parent Library Shelf: 
Parents can become patrons of our Library and sign out books as well.  Our parent Library shelf includes books on a variety of subjects including homework help, discipline, health education, substance abuse prevention and getting your kids to do more chores with less arguments.  Come in and check it out!